Tips for Healthy Hair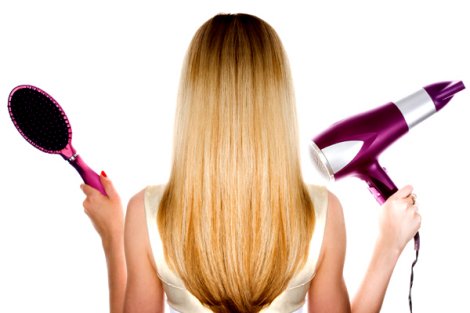 With proper care it is really easy to have healthy beautiful hair. Anybody knows that regular washing and conditioning together with minimized chemical impact will keep hair in healthy condition, but there are several other tips, which help with such concerns as fragility, dullness, and split ends.

•    First of all hair specialists recommend to pay attention to the main hair tool: the brush. Different hair types respond better to different brushes: dry hair needs a round of flat brush with a combination of boar hair; damp hair will respond better to soft, rubber-toothed wide-paneled brushes. Boar hair brushes will also be good for those who have problems with statics.
•    Before shampooing hair, try to brush it really well and remove all the tangles. This will remove flakes and dirt built-up, increase blood flow and bring nutrients and oxygen to the follicles. Instead of being harsh on tangles, try using special products that make this process easier: detangling sprays and creams are available in all hair care stores.
•    A conditioner is also an important part of hair washing. Deep conditioning moisturizes hair, protects follicles and strengthens the strands. It is especially important when the hair is exposed to heat, strong wind or other harsh conditions. Specialists recommend using conditioners once every two weeks.
•    After washing your hair, blot it with the towel instead of rubbing it. This process takes more time, but reduces the effect of frizz after the hair becomes dry. Another good variant is to wrap a towel around your head for a few minutes and let it absorb as much water from the hair as possible.
•    Many people use blow-dryers, but hair becomes weaker after their heat. A good alternative to the regular device would be an ionic dryer. It is designed to take care of hair with negative ions, which break up water molecules and remove bad positive ions. With an ionic dryer the process of hair-drying is usually half as long as with a regular dryer.
•    Another tip about the dryers: use a nozzle. It concentrates the airflow in the desired direction, reduces frizz, and helps to achieve the desired hair style. If you want curls, use a diffuser which will surround hair with air.
•     Regular hair cut is necessary even if you want to have long hair. Sun, wind, and chemicals damage hair, especially in its weakest part: the ends. Regular trim ½ inch or more will remove split ends and make hair brushing easier.
•    Use good accessories. Any person with long hair should have a variety of hair accessories; however, some of them are harsher on hair than the others. Hollywood stylists suggest putting hair in soft braids or twists and using claw clips which are really gentle on hair. Various elastic bands will work all right too, but try to avoid using barrettes too much: they can pull hair, stress the follicles and break the strands.
•    If you dye your hair, use color-protective products. Any coloring damages hair, because the dye has to be absorbed and go as deeply as possible. Color-protective products usually have nourishing elements and they are designed to minimize dryness, to make the color last longer and to prevent damage.
•    Another little tip for those who color hair: wet the ends before coloring it. The ends are more porous, so they absorb more color than any other part of the hair strands, so as a result they have more intensive shade of the color you used. Wet ends do not absorb the dye as strongly and will help to have even coloring on the whole length of the hair.
Alicia Maxwell
Posted on August 18, 2010
Filed Under Hair Care
Comments